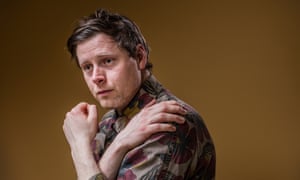 A culture of lying, the outrageous failures of our political system, Westminster being so corrupt, so chaotic … " Max Porter is talking about public life in the UK today, about which he finds almost everything "revolting". Porter's debut, Grief Is the Thing With Feathers, a novella-cum-prose poem about a bereaved dad bringing up two boys, based on the death of his father when he was six, was one of the stand-out books of 2015. He was hailed as "a writer bursting with originality", but he was reluctant to write a second novel without feeling the same sense of urgency. Now, four years later, this despair at the state of the nation, combined with his "obsessive" fears for the environment, has sent him back to his desk for Lanny, an inventive take on the "missing child" narrative and a meditation on Englishness, made strange by the otherworldliness that distinguished his earlier novel.
Porter didn't want "just to write angry stuff about tabloid poisoning", a straightforward anti-Brexit or eco-crisis novel. "This isn't stuff I want to write about explicitly." Instead, he hoped "to have a kind of philosophical reckoning" with all these issues. "The question was 'How do I write about England?'"
His first attempts were "rather unhealthy, because various political feelings collapsed into the effort. It was not a nice place I was writing about"; and, despite all these anxieties, he longed "to write about how strange life is, and beautiful". Indeed, such gloominess seems at odds with the ebullient novelist (not yet 40), who shrugs off his parka and begins talking with infectious passion about everything from poetry ("I'm never not thinking about Emily Dickinson") to his worship of trees. He insists that he is not the whimsical, nature-loving Lanny at the heart of his new novel – "I'm a bit more worldly than that" – but his boyish enthusiasm does bring a blast of energy into the hush of Faber's Bloomsbury offices. Starting out in a bookshop (he won the Bookseller of the Year award in 2009), he was, until recently, editorial director at Granta, where he looked after writers including Han Kang, Eleanor Catton and Rebecca Solnit. "Editing is wonderful, but you are soulmate, analyst, bloody torturer, exploiter all rolled into one," he says. He wrote Lanny on his Fridays at home, by which time he was desperate not to have "other people's words in [my] head".
Read the full interview in The Guardian